In 6 years we have stopped 2,214,826 plastic milk bottles being sent to landfill!
Dreamview Creamery is located on the hills above Raglan and overlooks the Whaingaroa Harbour and Tasman sea. Owned by the Hill family, we have farmed the rugged 300 acre property for 20 years and began our farming journey at Dreamview with a 250 cow dairy farm. Over the years we have moved to more sustainable practices, and now our focus is about bringing locally produced dairy products to the Raglan and now wider communities.
Dreamview For Businesses
There are a few ways we have made it easier for you to bring some more sustainable practices into your business. First off by getting rid of those plastic milk bottles and creating systems to supply you with quality dairy products, without the waste and delivered to you.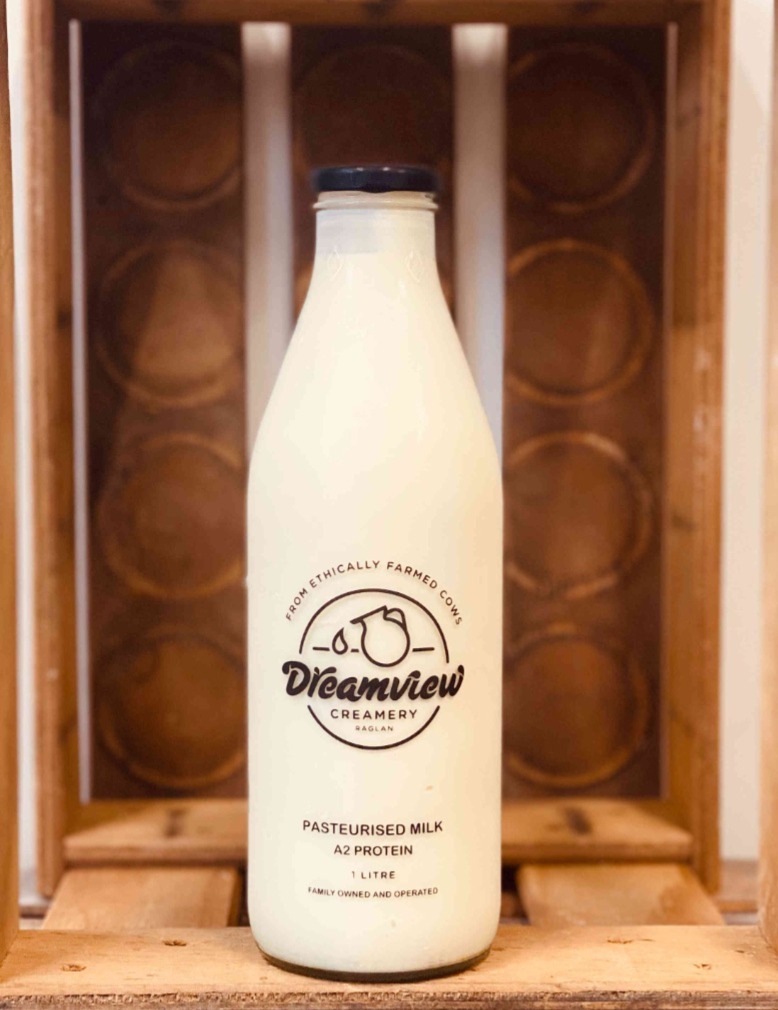 Office Delivery
We can deliver the freshest, local, quality milk to your office. Zero waste and plastic free! An easy way to make your business that little bit more sustainable.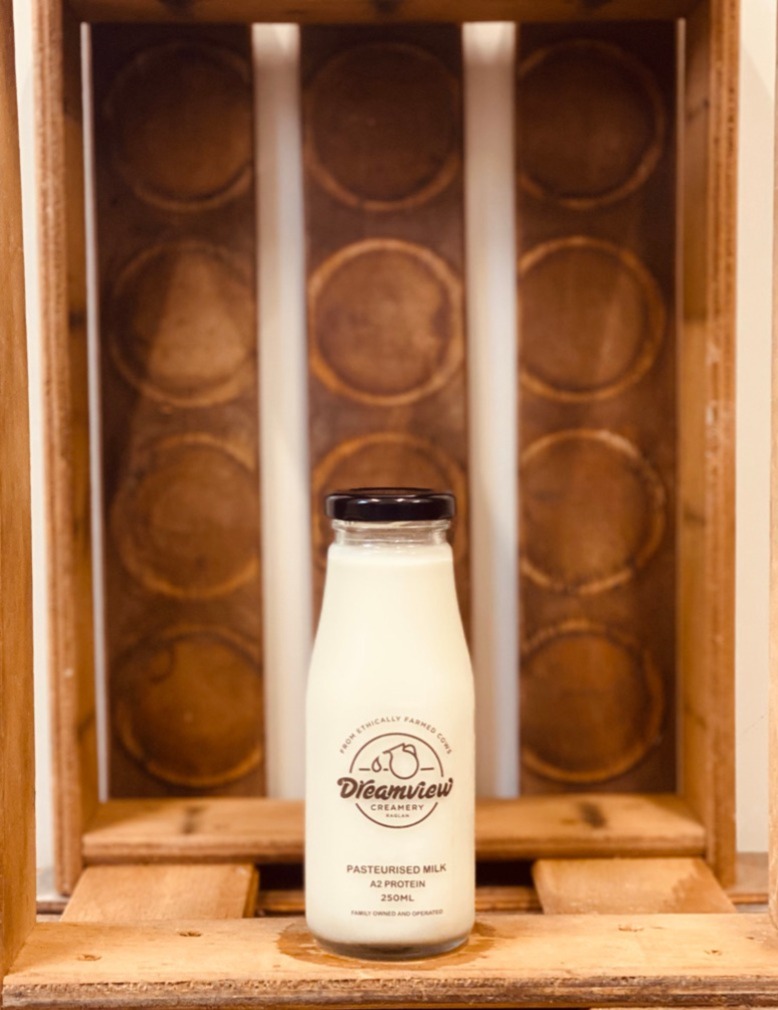 250ml Room Size Milk
Our mini bottles are perfect for hotels, motels and airbnbs. Give your guests fresh, local milk whilst reducing waste. Make the switch and stop all those little plastic bottles going to landfill.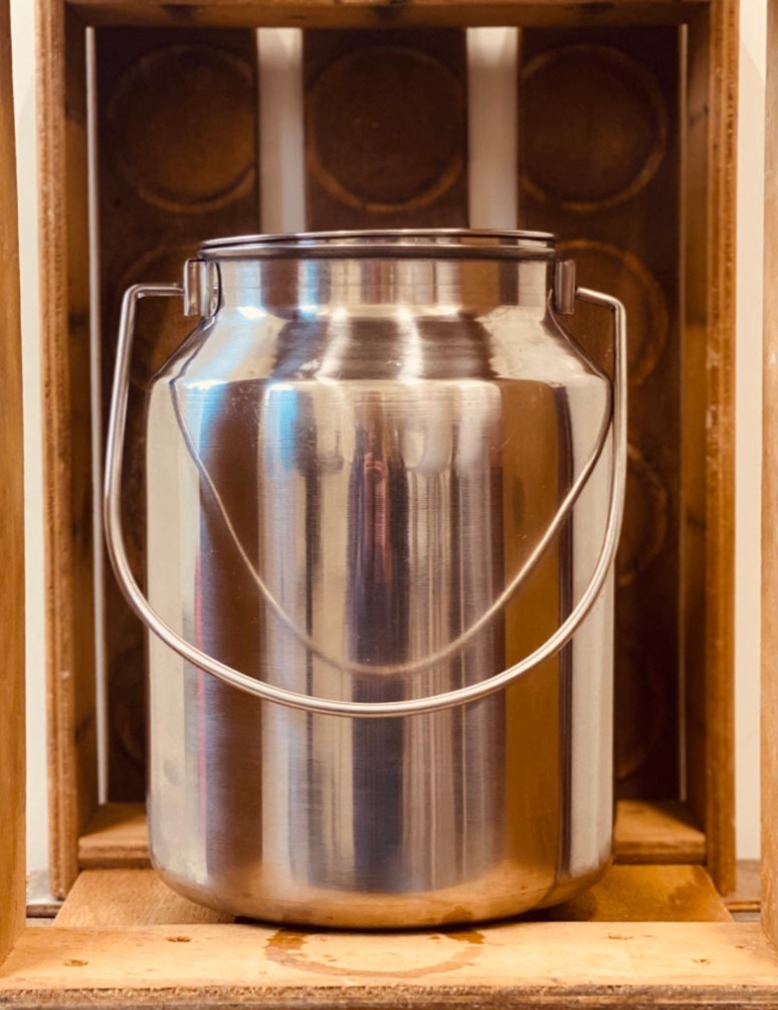 Catering Size Pails
Our stainless steel catering pails are ideal for catering companies, restaurants or cafes. These can come in 5L or 10L options. Easy clean, sterile and zero waste.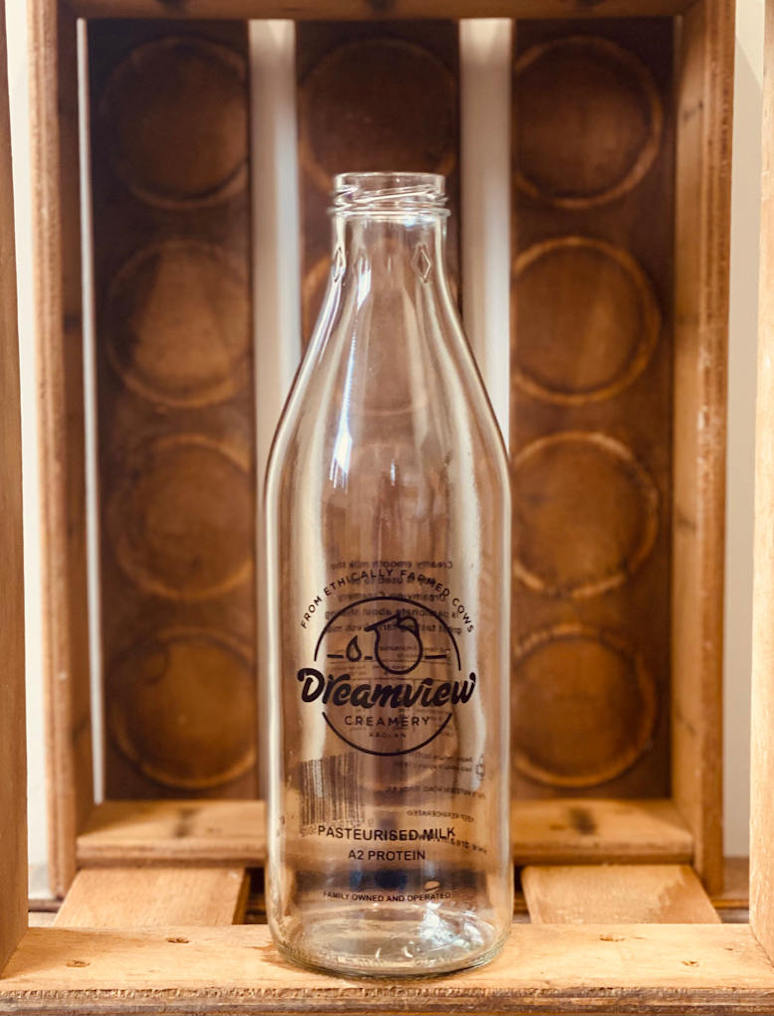 Wooden Storage Crates
All of our orders are delivered in our beautiful hand made wooden crates. Making storage and collection of the empties easy and looking tidy.
Dreamview & the Environment
In 6 years we have stopped 2,214,826 plastic milk bottles being sent to landfill! We package all our products in glass and other re-usable packaging. No Waste! No rubbish!
Ethical
We do not have any bobby calves on the farm. We rear all our calves and keep them until 18 months old giving them the best start at life. We then sell them on as beef cattle.
Reuse Effluent
In our wider farming practices, we have significantly reduced our stocking rate and we use our effluent pond to substantially reduce our fertilizer requirements.
Protect Our Animals
Our policy is to always put our animals first which sometimes means treating them with antibiotics in order to ensure their well being and welfare.
Native Tree Growth
We have even been propagating our own natives trees over the last few years and carrying out extensive riparian planting.
Customer reviews
Great service at a great price, love this A2 milk delivered straight to my door in Hamilton!
Have my milk delivered from them weekly and it's such a good service! The staff are also super friendly, thank you all!
Our Credentials
We take pride in delivering only the best products, at the highest standard. Take a look at our credentials below.